10 Chic Kitchen Must Haves From Amazon
Posted by Tara McCarthy on Tuesday, June 21, 2022 at 8:29 PM
By Tara McCarthy / June 21, 2022
Comment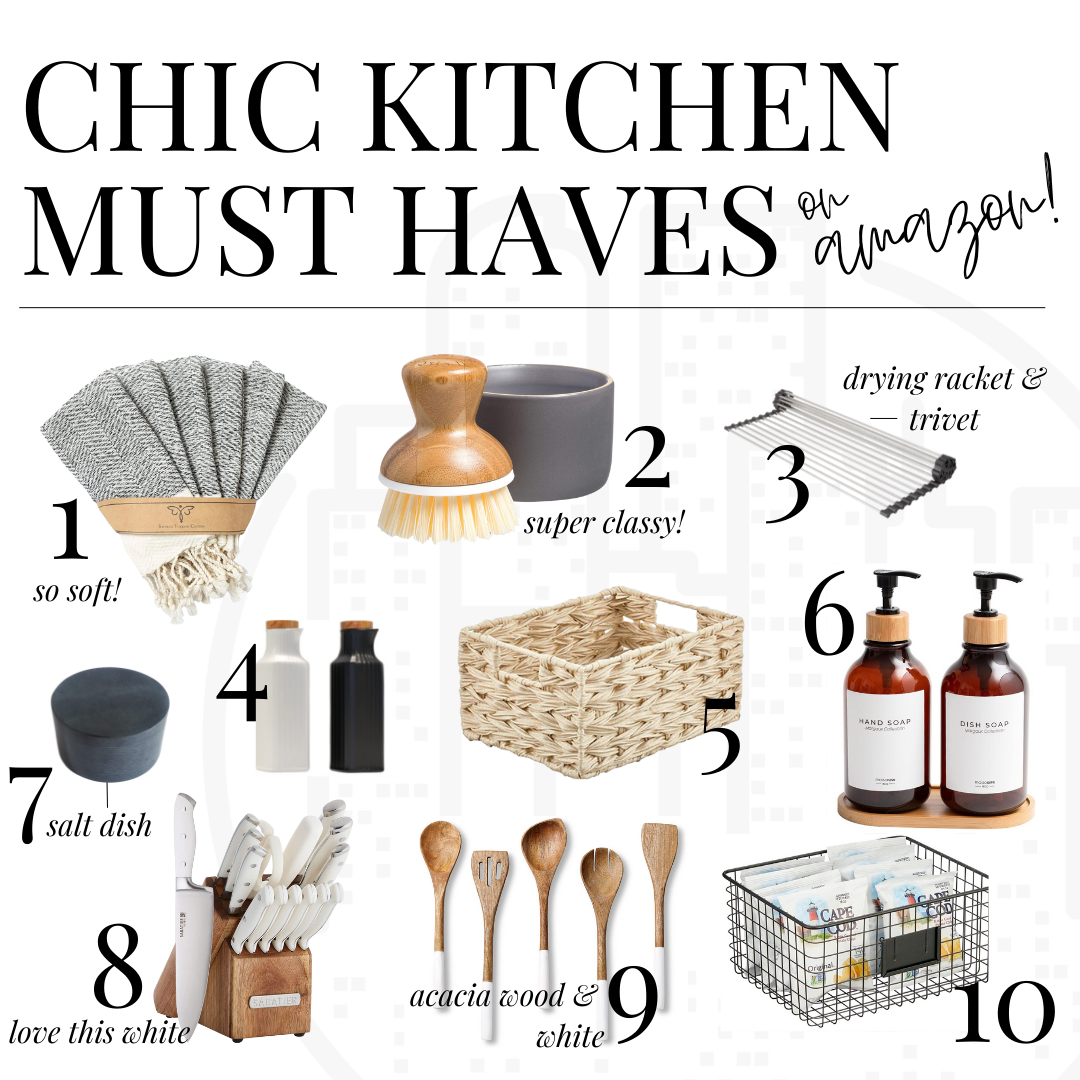 People are always asking me for decorating and staging advice and I'm going to start sharing some with you all here right on the blog!
There is nothing I love more than a super cute Amazon find for our home! I'm loving all these fresh & clean white options with wood accents to give them a little warmth. Here are a few of my favorites!
1. These turkish dish towels are so soft and look much more expensive than they actually are.
2. Update your nasty sponge to this little soap dispenser & dish brush set. It looks great in the kitchen and is made with earth friendly materials. Bonus - way less germy than a kitchen sponge!
3. This rollup drying rack is not only a space saver, but it also doubles as a trivet for hot pans! Dry dishes, drain vegetables and so much more.
4. Store oil, vinegar, balsamic, even syrup in these sleek bottles. Huge upgrade from the ugly store packaging.
5. If The Home Edit taught us anything, it's that cute baskets to hide all the pantry snacks is LIFE CHANGING! These woven baskets are big enough to hold boxes of rice, snacks, etc. in a beautiful way.
6. Elevate your soap game with this budget friendly soap dispenser set. Suddenly doing dishes doesn't seem so bad!
7. If I'm being honest, I was almost 40 years old before I have ever had salt out of anything other than a salt shaker. Ya'll...there is life WAY beyond this!! This chic salt dish is perfect for holding the 'good salt' that you want for steak, bread, etc!
8. Another budget frinedly find is this German forged knife set. I LOVE the white handles, an amazing upgraed to all the black & brown handles on the market!
9. Add a little modern elegance to your kitchen with this Acacia wood utensil set. THe long handles are perfect for stirring, mixing and serving all year long!
10. Produce...you're storing it wrong. Another 'adulting moment' was when I discovered not all produce should be stored in the fridge. Say whaaaa? Onions, potatoes, tomatoes, avacados...these wire baskets are perfect for these AND come in lots of different sizes.